Share the post "Auto-detection of user's IP address in Magento eCommerce site"
Magento eCommerce platform
Today there are many eCommerce platforms available in the online business industry. Magento is one of the popular open source eCommerce platform which offers flexibility, scalability, and other different features for the development of online businesses. It attracts many developers, merchants, and users. Magento has a strong technical growing community with thousands of developers and designers. This dedicated Magento Development team developed many modules to attain more profit in eCommerce store business. They can also offer services such as Magento template design and development, Magento theme design and development, Multi-store development, Customization of Core functionality, SEO friendly URL & rewrite rules, integrate sites with more than 50 payment gateways, easy navigation of product through category, multi-tier pricing for quantity discounts, online store development in Magneto, etc.
Read Also: Its Holiday Season! Boost Sales of Your e-Commerce Shop Effectively with These Extensions.
More than 198,000 online store merchants prefer Magento eCommerce platform for their online business. They believe that Magento is the perfect eCommerce software for online store business. It offers many advantages to merchants and customers.
Advantages of Magento eCommerce platform
Supports 50+ payment gateways to offer secure payment transaction experience to customers.
Integrated with many popular social network sites to increase visibility of eCommerce store to millions of social users without wasting more money and time.
Combined with excellent shipping carriers to make the shipping process in eCommerce store more safe and fast.
Translated into more than 60 languages to attract other country people.
Marketing and promotion tools help merchant to increase productivity of his online business and boost customers to buy more products in the store.
Generated reports based on Magento eCommerce store performance to help merchants identify which areas need more effort.
Magento GeoIP Module – Auto-detection of user's IP address
One of the biggest advantages of using Magento platform is that it allows merchant to setup and manage one or more stores by using single admin panel. Hence, many merchants show more interest to start their online business store based on Magento eCommerce software. It is not so easy to offer services for online customers from different countries. But, if you are an owner of multiple Magento store you can achieve this by using the Magento GeoIP Module in your online business. This module helps you to satisfy all customers from different countries without investing more money.
Screenshot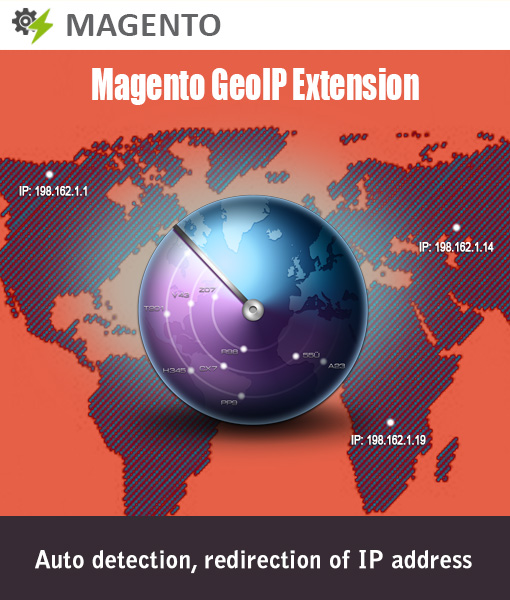 How this module works?
Imagine that you are running multiple stores based on different languages such as, French, English, Hindi, Spanish, and Urdu. If a visitor from Spain visited your store means, this Magento module quickly detects the IP address of this Spanish visitor and redirects him to your website which is in Spanish language. So, your visitor can view product or service details based on his native language.
Benefits of using this module
Identifies your users location based on his IP address and provides services in his native language.
Helps your visitor to easily know more about your store or product details through the language which he knows very well.
Allow visitors to change from native language website to default language website.
Boosts customers to buy more products from your store,
Currency settings can be done by both manual and automatic mode.
Currency updater is handled by using custom GEOIP import services.
Provides user friendly eCommerce store website.
Redirecting visitors to their respective native language store will encourage them to become a regular customer.
By using this Magento eCommerce Module, you can easily increase productivity of your store and provide optimum customer services in your online store business. Using this module will be more beneficial for you to run successful multiple eCommerce stores with better customer services.