Share the post "Manage Multiple Shipping Carriers – Prestashop Dropshipping Module"
You can become a retailer without needing to invest large amounts of money. The Prestashop Dropshipping Module process can be defined as one of the ways you can take to make your business more profitable and less of risky character. Actually, drop shipping is a retail method in which merchandise is shipped to the customer directly from the warehouse or supplier rather than from the retailer. The biggest benefit of Prestashop Dropshipping Module is you don't have to worry about fulfillment or inventory issues. Prestashop Logistics Module helps you to create your own shipping carriers. When a product is sold, the retailer passes along the customers' order information to the wholesaler or supplier who then packages and ships the product.
Screen Shot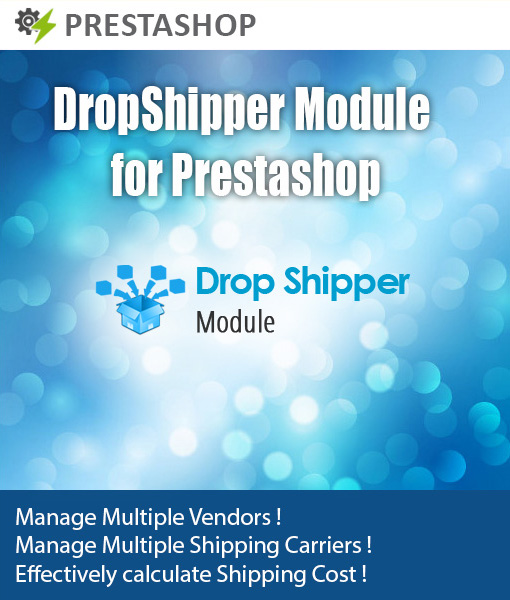 As a retailer, this process minimizes the risk to you, as because you do not need to buy the product until it has sold. Suppliers take care of the warehousing, packaging, and shipping of products, saving you a great deal of money. The Prestashop Shipping Module is especially good for drop shipping. The module is a perfect application for Drop shipping and for wholesale companies as well, it both facilitates and optimizes the way drop shippers place their orders, thus attracting more Drop shipper to your company. The drop shipper will be able to specify a number of different shipping addresses at one go. The module facilitates with more features like multiple shipping origins per order, built with most of the 3rd party carriers, automatic order notification sent to suppliers and vendors, different vendors allowed for same order, split products in the shopping cart by vendor, automatic customer shipment notification, etc.
Read also: What is Dropshipping on Prestashop?
The module allows different shopping cart by the vendor. Each vendor can have special Table Rate. The module sent the vendor comments to the store owners. The modules having delivery service options for each shipping method. The module allows you to configure the pickup type and packaging type for each shipping method. The module can also calculate shipping fees based on the number of addresses specified and products being delivered to each particular address. The module notifying the customers fulfillment from different warehouse instead of supplier / vendor information.
The module supports Prestashop 1.4 &1.5 versions. The merchant or administrator must have credentials of each third party carriers such as  USPS, FedEx, AU Post, and Canada Post. Ion Cube loader is mandatory for the drop shipper module (It is available default in the server, if not contact the server host before installation).