Share the post "Creating Tag for Product – Prestashop Product Ribbon Module"
Want to attract your customers??? Then highlight your products with product label or ribbon. The product ribbon / label will help you to increase the product sales by displaying the product with a nice ribbon like special offers, new products, offer products, special products, featured products, etc. Prestashop Label Module facilitates the administrator to create the different ribbons and can apply the ribbons to the products in the store. Using this module, ribbons and labels can be easily added to the products and you can definitely enhance the user experience and attention to your store best-selling and profitable products.
Certain product characteristics make products more desirable to certain customers. Everyone wants to know about the recently released products. You can easily attract these type of customers by highlighting your new products like "NEW", "Added 2 days ago", "New Arrival (3 days)", etc. Mark items as being on clearance, put a label on a product like "50% OFF", or show new products in your product list or put a label such as "SAVE NOW" or "CLEARANCE" or anything else you can imagine. Prestashop Product Ribbon Module allows the administrator to add or edit or delete the ribbons for the products in the website. This ensures that ribbons only appear on the exact products you want. You can even set a date range that the product will be added / removed.
Screenshot: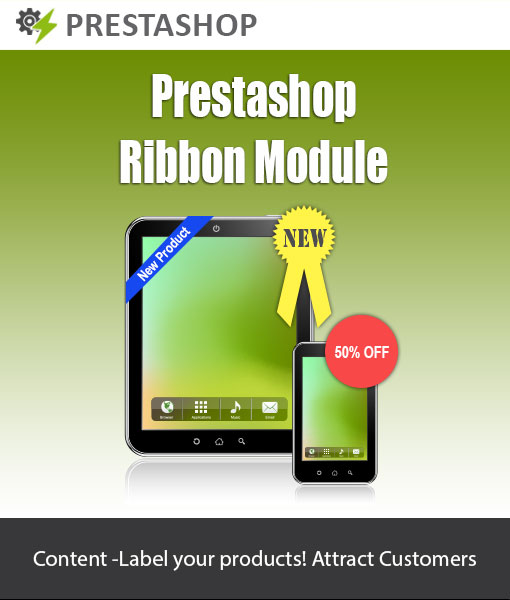 Don't waste your time creating your own ribbon graphics. The administrator can assign the created ribbons for the product categories (that are available in the system) like, On Sale, Best Sale, etc. (without redirection). This module provides the administrator to enter the following text information while creating the ribbon image. You can also upload your own images for ultimate customization. When uploading the ribbon the system will convert the ribbon for both the small and large thumbnail to be used in the product gallery page. This module allows the administrator to manage the display settings for the ribbons to the product images.
Read also: Exclusive Sorting Features with PrestaShop Advanced Filter
The administrator also had an option for searching the particular ribbon by name, by status, by ID. You can customize your ribbon exactly the way you want like place the ribbon at the Right Top or Right Bottom or Left Top or Left Bottom. If you want to show the difference between the catalogue and product page, then you can use a different image / label for the two pages. It is easy to install. Prestashop Product Ribbon Module is designed in an exclusive manner to differentiate the products and to attract the attention of the customers.