Share the post "Enjoy Automation for your Shipping Task – Prestashop Dropshipper Module"
Drop shipping is a massive task and it is the process through which customer place an order for companies or manufacturer products via a retailer. We do know that eCommerce business makers always invent new products and sell them through their website for more sales productivity. Either merchants can just try this drop shipping business and get benefited extremely without taking much effort Our Prestashop Dropshipper Module is best suited for drop shipping companies and wholesale companies. It enables and optimizes the way drop shippers place their orders and create a significant efficiency for retailers and drop ship companies.
Screen Shot: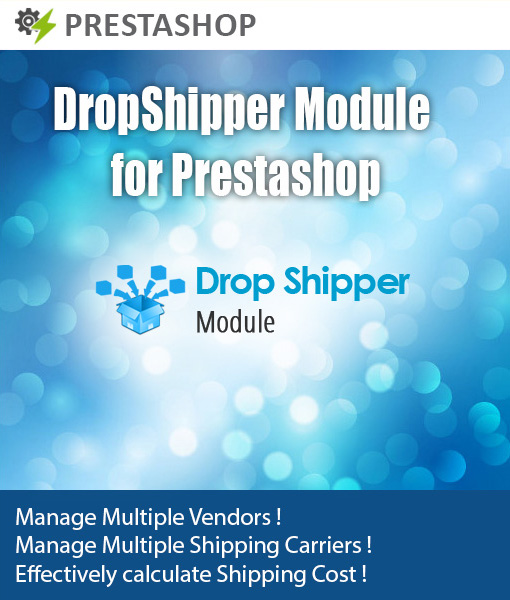 Excellent Features of Prestashop Dropship Module
This module enables the mortar retailers or store owners to effectively manage placed orders and Drop shipping products from Multiple Vendors. The site owner can also launch his own products or accept the product from different vendors and display them on the website for selling purpose. With the help of our module, you can transfer the customer order and shipping details to the manufacturer or supplier who will deliver the product through carriers. Drop shipper can easily identify and stipulate a variety of shipping addresses at a time. It also enables Drop shipper to estimate the shipping fees for each and every product that is being delivered to the customer. This module is made with most of the 3rd party carrier and also facilitate the user to create his your own shipping carriers. As soon as the order is placed by a customer the order notification and customer shipment notification is sent to suppliers and vendor automatically through this module. Some special features are listed below:
Can create many shipping origins per order.

Provides access to Vendor / Supplier login.

The vendor can send comments to website owners.

Can generate monthly / weekly sales report for each vendor.

Advanced Flat-rate builder and each vendor can set up special Table Rate.

Permits different shipping per vendor.

Allows vendor to split products in the shopping cart.

Can notify customers about the delivery process through different warehouse.

Delivery service options are available for each shipping method.

Pick up type and packaging type for each shipping method.
Read also: What is Dropshipping on Prestashop?
Are you a drop shipper and want to specify customer delivery details right on the Shipping Details page? Then opt for a Prestashop Dropshipper module and get benefited with its enticing features.