Share the post "Visitor Counter Module for Quick Traffic Analysis in PrestaShop Store"
Before reading this article, Please provides an answer for this question. How many people visited your online store today? If your answer is do not know then this article will help you a lot. Because this article explains about a valuable module that will help you to easily find out the count of your website visitors.
PrestaShop is a flexible and feature rich open source eCommerce software which helps merchant to run a successful online store in this competitive business world. More than 165,000 online stores are built based on PrestaShop platform. Thousands of PrestaShop Front End Modules are used to build a stunning online store website with many features and functionalities. With the help of these modules, you can make your store more attractive, professional and elegant. These modules are used to improve the performance of your eCommerce store.
Screenshot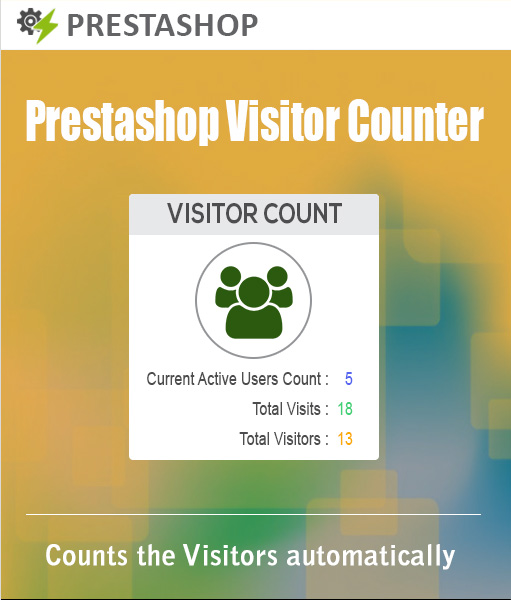 PrestaShop comes with more than 310 dynamic rich features to increase the growth of your online business. Hence, many online store owners prefer this software for their eCommerce websites. PrestaShop offers many advantages such as:
Thousands of attractive themes to provide a beautiful online store that can easily grasp the attention of many customers towards your website.
Integrated with more than 50 payment gateways to make the payment process more secure and fast.
Supports many languages and currencies to extend your online store services.
Many shipping carriers integrated with PrestaShop to provide simple and quick shipping process in the online store.
Social media sites such as Facebook, Twitter, Pinterest, LinkedIn, Instagram, Yahoo, Google+, and many more combined with PrestaShop to attract many social users.
Marketing and promotional tools help you to easily promote all your products and increases your online business sales.
Analyze the performance of your store and generates the report to improve your website in online business world.
The PrestaShop Visitor Count Module is an excellent module for the merchant who wants to know the site performance and visitors. It provides the information about the number of visitors who visited your store, which means when the visitors enter into your site this module will automatically analyze them and displays the total count of the visitors of your website.
This module provides the number of registered user information on your site, which means it analyze the users who created an account on your PrestaShop website. It also displays the number of current active users. The counts list will appear as a compact block in left or right column, which can be placed anywhere on the site page. With the help of this information you can easily come to know that how many visitors like to visit your website, how many visitors really wants to know more details about your product and the services. Without spending more time, you can easily keep track of the count. Any visitor of visiting the site will be able to view the count block in the web front, and this increases the popularity of the web site.
More than 20,000 PrestaShop eCommerce Modules are developed by its dedicated developers. These modules are used in different ways to enhance the eCommerce website. Each module comes with rich features that help merchant to increase the productivity of the online store in an efficient and effective manner. Similarly with the PrestaShop Visitor Count Module a merchant can keep count of the visitors and display the count to the site audience, thus making the website more popular.