Share the post "Drupal Ubercart First Data GGe4 Payment Gateway Module"
Payment gateway allows the website to link the client payment account with the websites account. It is an easy way to increase retention, grow loyalty, and improve customer satisfaction. These gateways ensure a secured way of transmitting the payment information between the customer and merchant and also between the merchant and the payment processor. The Drupal First Data Module is designed for merchants who run an eCommerce site using Ubercart. Drupal is a free, open source content management framework maintained and developed by a community of 630,000+ users and developers. Drupal runs over a million sites ranging from personal blogs to corporate, political, and government sites including WhiteHouse.Gov, World Economic Forum, Stanford University, and Examiner.com.
Screenshot: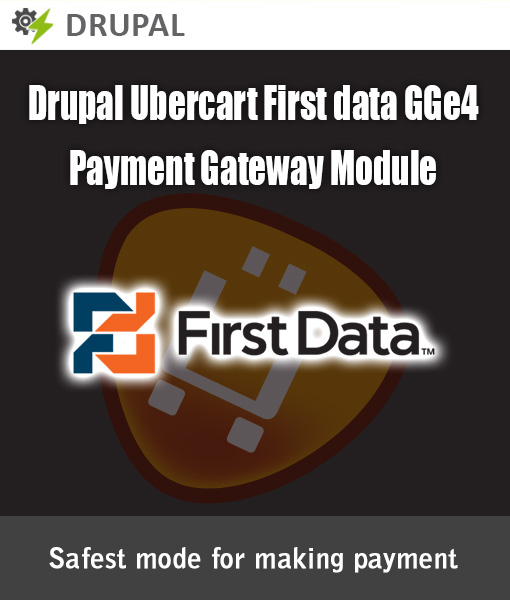 Drupal is a free software under the GNU Public License. That means its completely free to download, use, modify and share it with others. Ubercart is an exciting open source e-commerce shopping cart that fully integrates your online store with Drupal, the leading open source content management system. The First data GGe4 hosted payment gateway is designed with the latest technology to address eCommerce merchants business needs. It offers a safe and reliable solution for online payment transactions. The customers can experience a secured and seamless checkout. The payment gateway e4 helps the merchants to build a smarter, safer, and more effective payment strategy. The Global Gateway e4 provides multiple interface options based on what's best for their business.
The Drupal First data GGe4 payment module helps to collect the credit card details, validates and passes the data to First data in a secured way. First Data GGe4 payment gateway can be integrated with the Ubercart core credit card system by setting the default gateway to First data Global Gateway e4. Secured Hosted web payment form designed to accept eCommerce transactions. This shows the companies technical connections work well and are managed effectively. By using this module the merchants can easily trace the fraudulent or suspicious transactions. The module accepts all credit card payments and process through First data gateway. 
The module relies on an Ubercart core credit module to collect and encrypt credit card information. The module supports Authorize and capture, Authorize only and Capture later feature, refund amount. The merchant can authorize only or authorize and capture the payment. Later can capture the amount from the module backend. Authorize Only of payment – The transaction is only authorized to be captured later. Authorize & Capture payment – The amount is authorized and captured immediately. The module allows you to refund the amount if the customer needs it. The module does not store card information anywhere to pass PCI Compliance issues. The merchant can capture the authorized payments from the module backend. It is simple and easy to install.