Share the post "Difference between Joomla and WordPress -eGrove"
Deciding on the right Content Management System (CMS) is crucial for your website. There are numerous CMS available today with their own advantages and limitations. Let us take a closer look at two popular platforms stand out from other players: Joomla and WordPress.
Both platforms are are open-source and free, hence cost is not the deciding factor. Factors that most likely should drive your decision are their ease-of-use, options for customization and happening forums. These systems will be analyzed through actual experience. We can share with you the major differences between these open sources first-hand.
Take a look on how to use Joomla and WordPress together for better SEO results. You may not have to read a lot to get to your decision, we will make it pretty quick.
Joomla was launched in August 2005 and has become the world's most popular open-source content management system. Now Joomla with all its extensions is better for building a good solid website with all the features you desire. If you start with the proper technical enhancements, then you can bring it to high rankings in the search engines.
Templates in Joomla make it easy to get a good layout for the site, and you can find more good free Joomla templates. For a good business website we would recommend to look for a good commercial template based on a Table less design with external CSS files.
Undoubtedly WordPress is the King of Blogging software. You cannot beat WordPress, especially if you do the right setup, making the permalinks work right through the .htaccess file setup and also setting up the options to /%postname%/. Hence, Creating posts and giving it the special keyword tags are really easy.
Templates for WordPress are also very easy to obtain and to implement. As well a Google crawler loves WordPress Blogs
Joomla and WordPress:
WordPress is the most popular one with 140 million downloads whereas Joomla has got nearly 63 million downloads. WordPress are mainly used for blogs and corporate websites and Joomla mainly concentrates on ecommerce sites. Though there are many plugin and theme pool are available in WordPress, Joomla got a step higher in the level of skills needed.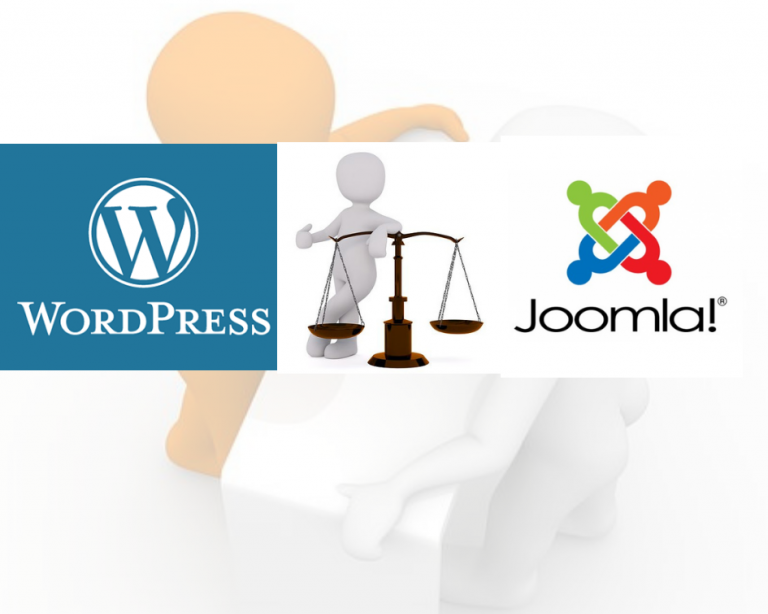 Our Recommendation
As mentioned earlier – we don't want to beat around the bush and load you with a wordy blog. Simply, here you go…
Use Joomla if you fancy customization from a minute range to extensive.
Use WordPress if you just want to begin and breeze through building your blog or website without waiting to equip oneself
A killer combination would be to use both

Setup your main site in Joomla and start working on the content, create good quality content.
In a sub directory, or a sub domain, setup your blog using WordPress.

With the use of creating through SEF functions and categories in WordPress, will bring traffic and this traffic reflects to your main domain. With the content on your main website (Joomla), you work to keep your visitors captured and make them come back.
Even though there are bridging software available to connect WordPress and Joomla, it is recommended for separate installation, because there are more features that can use for Search Engine Marketing.
eGrove Systems are expertise in WordPress Development and Joomla Development. eGrove Systems Corporation also have experience in improving Search engine rankings using Joomla and WordPress.
Source here: Joomla and WordPress.